Dia de los Muertos
Visitors can enjoy some of the biggest and best Day of the Dead celebrations in the country while visiting San Diego. The Mexican celebration is a time to remember and honor those who have passed away. Altars are dressed in marigolds, traditional treats, sugar skulls and more. For newcomers, the event is surprisingly joyful as attendees celebrate their loved ones who have moved on.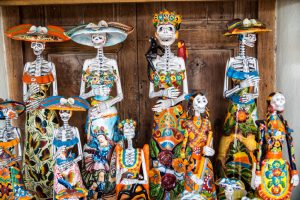 In nearby Sherman Heights, the community event spans several weeks. Check out clay mask workshops, classes on Day of the Dead makeup and events where you can make Yeso sugar skulls. A Muertos Festival, full procession and community breakfast are three of the most popular events. It all starts October 22, and you won't want to miss the oldest Day of the Dead festival in the region.
It's Not Halloween
Old Town San Diego is another destination for community celebrations. Enjoy music, arts and crafts, mask and paper flower making workshops, sugar skull decorating, and special holiday menus at a number of Latin restaurants. Face painting stalls can be found in Old Town through November 3. An indoor Casa de las Calaveras exhibit is a new feature where you can tour displays that tell a Dia de los Muertos story.
Tinkerer's Club at the Fleet Science Center hosts an annual museum Day of the Dead event. Stop by and decorate your own sugar skull in the tinkering studio before heading over to the paper flower station at Mingei International Museum.
How will you be celebrating?