Torrey Pines State Natural Reserve
Twenty minutes from your hotel in Santee is the sprawling Torrey Pines State Natural Reserve in San Diego. Although it's nestled in one of the most well-known American cities, it's still one of the most untouched pieces of land along the Southern California coast. With over 1,500 acres of land earmarked for conservation before the city was developed, visitors can enjoy the rare Torrey pine maritime chaparral, pristine beaches and a dreamy lagoon critical for migratory seabirds.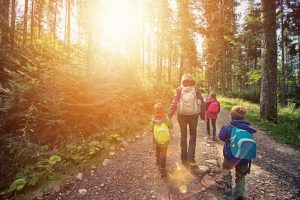 Here, you can easily see what California looked like to Spanish explorers, early settlers and indigenous populations like the Kumevaay people. It's a popular attraction for outdoor lovers visiting from around the globe, as well as locals who consider this their natural oasis from the bustle of the city.
Exploring the Reserve
In between shopping, dining and beach bumming, slip into the Reserve to stroll on well-kept trails, take in the views from overlooks and enjoy the great outdoors via photography, birding and more. There's a big difference between a reserve and a park—reserves are declared important areas and are home to threatened habitats, animals and plants. No food or drink is allowed, dogs aren't permitted and the "pack in, pack out" motto is in effect.
The Reserve is open from 7:15 a.m. – sunset year-round. Accessible trails include Guy Fleming (0.66 mile loop), Parry Grove (0.50 mile loop), High Point (100 yards with steps to the lagoon), Razor Point (0.66 mile to an overlook), Beach Trail (0.75 miles to Upper Reserve) and Broken Hill (which will be re-opening soon).